No matter what you are looking for when traveling to Thailand, with dishes changing in form and flavor, the nation's astoundingly diverse cuisine, for a relatively small country, will make you want to extend your stay and come back more times again.
Enjoy Thailand dishes with: Indochina travel Thailand
Pad Thai
Pad Thai is a stir-fried noodle dish consisting of rice noodles, tofu, bean sprouts, shrimps and egg first introduced to Thai cuisine in the 1930s by a Chinese-Thai chef. With soft noodlesflavored with a balance of fish sauce, sugar, tamarind, lime juice or vinegar and dried chili, Pad Thai which uses the combination of sweet, sour and salty to the greatest effect is one of the best-known dishes of Thai cuisine.
Depending on the cook's personal recipe, the addition of the following ingredients can be different: firm tofu, shrimp, pork, beef, chicken, and/or egg, roasted peanuts, crunchy bean sprouts or sometimes salty pickled radish. That way, Pad Thai is a dish is not only for meat eaters but also vegetarians. The contrast of textures: soft rice noodles inside and crispy outside also plays an important role in this Thai national dish. When enjoying, each of you can add white vinegar, lime juice, dried ground red chilies, sugar, soy sauce or fish sauce to adjust the dish to your own taste.
Where to go for best Pad Thai?
Best Pad Thai is said to be found in Bangkok: Pad Thai Thip Samai at No 313 Mahachai Road, Old City (close to Wat Saket); Ban Phadthai 21-23 Charoen Krung (Soi 44); Pad Thai Ekamai Sukhumvit 63 Soi 19; etc
Tom yam
Often referred to in English-language menus as sour Thai soup, this herb-forward broth dish is the most popular Thai dish at home and abroad. More than what its name, which derives from two Thai words: tom referring to the boiling process and yam referring to a Thai spicy and sour salad, indicates, Tom Yam Soup – an aromatic infusion of kaffir lime leaves, lemongrass, chilies, lime juice and galangal, is a shrimp soup served and enjoyed in its own broth, to which seasonings, vegetables and sometimes dairy are added. Thailand  holidays
Among many versions of this potent herbal mixture famous for its medicinal properties, the most favorite one is the shrimp version called tom yam kung, which is the combination of fatty prawns and a tart/spicy soup. There are also other variations of this most famous soup: Tom Yum Gai which uses chicken, Tom Yum Taleh with firm flesh fish and even a vegetarian version with mushrooms. Tom Yam is easily found everywhere in Thailand.
Khao Soi – the dish unique to Northern Thailand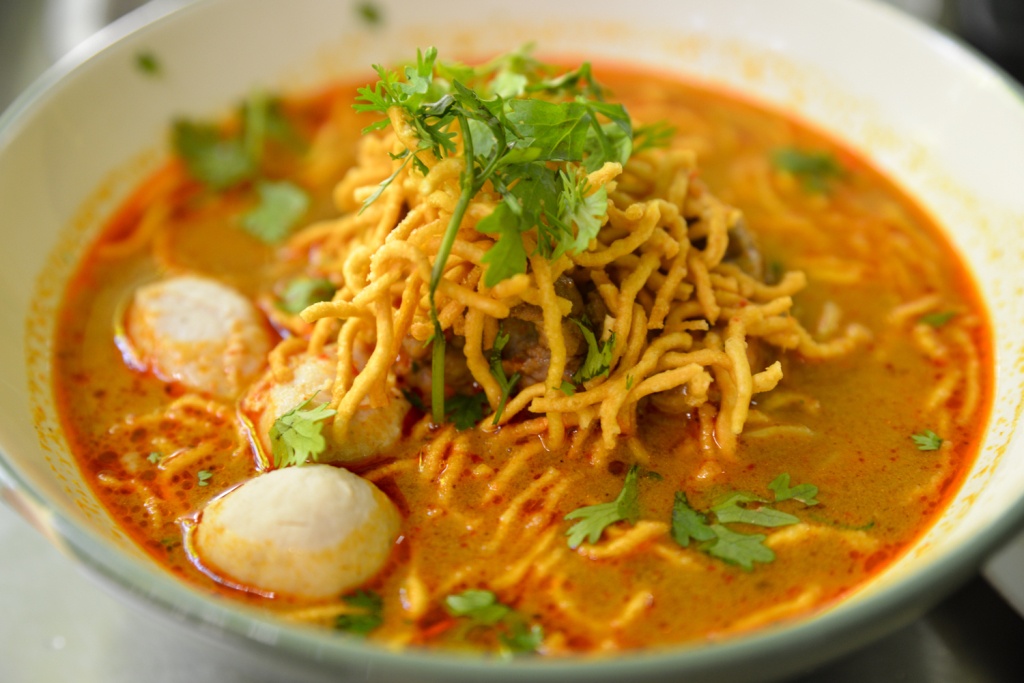 Though not frequently served in Thai restaurants abroad, Khao Soi, which is a deliciously creamy and slightly spicy yellow curry dish, is widely enjoyed by Thai people in northern Thailand.
This Thai curry dish is a delicious combination of the spice from the red chilies in the curry paste; crispy and boiled egg noodles, chicken and a little sweetness of the curry-like sauce containing coconut milk given by the turmeric. Typically slowly cooked in the broth and served as part of the meal, which uses a bowl of fresh long cut egg noodles instead of the traditional rice or rice noodle based dishes served in Thailand, are chicken drumsticks and thighs. A bowl of khao soi is finished with freshly diced cilantro, a small dish of pickled greens, freshly diced red onion and smoky chili paste on the side. Don't miss to stumble upon it when you come to Chiang Mai.
Where to go for best khao soi?
Some highly recommended places for the best khao soi in Chiang Mai are: khao soi khun yai on Sripoom Road, directly after Sripoom soi 8; khao soi islam at 22-24 Soi 1, Charoenprathet Road, Changklan; khao soi wulai on Wulai Road.
See more:
TOP SHOPPING ARTICLES IN MYANMAR
HOW TO EXPLORE MYANMAR WITH AN OXCART RIDE TOUR
Asia Travel Lover