Every country has their own traditional costumes which express their culture, lifestyle and habit from the ancient time. Some remain, some are preserved its original style. And for international travelers, when talking about Asian dress, they can easily point out Ao Dai in Vietnam, Kimono in Japan, Hanbok in Korea, Phasin of Thailand, etc. Myanmar is not an exception with its famous Longyi & Thummy. The traditional costumes of Burma are considered as a symbol expresses clearly about the unique culture and national spirit of this country, which creates the deep impression for those who have already traveled to
Myanmar
Our Sales Team has just come back from the Myanmar inspection trip in August and we realized that over the times, people still are loyal to this type of clothes though more or less, the style is a bit of more trendy. The traditional dress of Myanmar has 2 names: Longyi for men and Thummy for women.
Longyi is usually combined with the traditional jacket or shirt called Taipon to make it a whole completion.  It is quite various in sizes, shapes for matching the man body and color. Nowadays, Burmese man like a kind of checked patterns – simple and elegant, like I saw there, most of the males from a younger age to elder, are wearing it with dark color: navy blue, green, black, etc. There is one interesting thing is that men's dress was strapless and quite loose; therefore, when they have to move regularly, they often have to adjust the skirt, even in the crowd. Another fun fact, this kind of skirt is long 'till their ankles, that is why it is quite hard when wearing it in the summer or uncomfortable if they want to play sports. But our tour guide, Myatmo, showed us multiple ways to tie the longyi in their daily life, for example shorten it (still over the knees) in the summer so that it is cooler or how to make majority of the dress "disappeared" so that they can play soccer or even swim. Pretty convenient!
Please contact with Indochina tour to get more detail information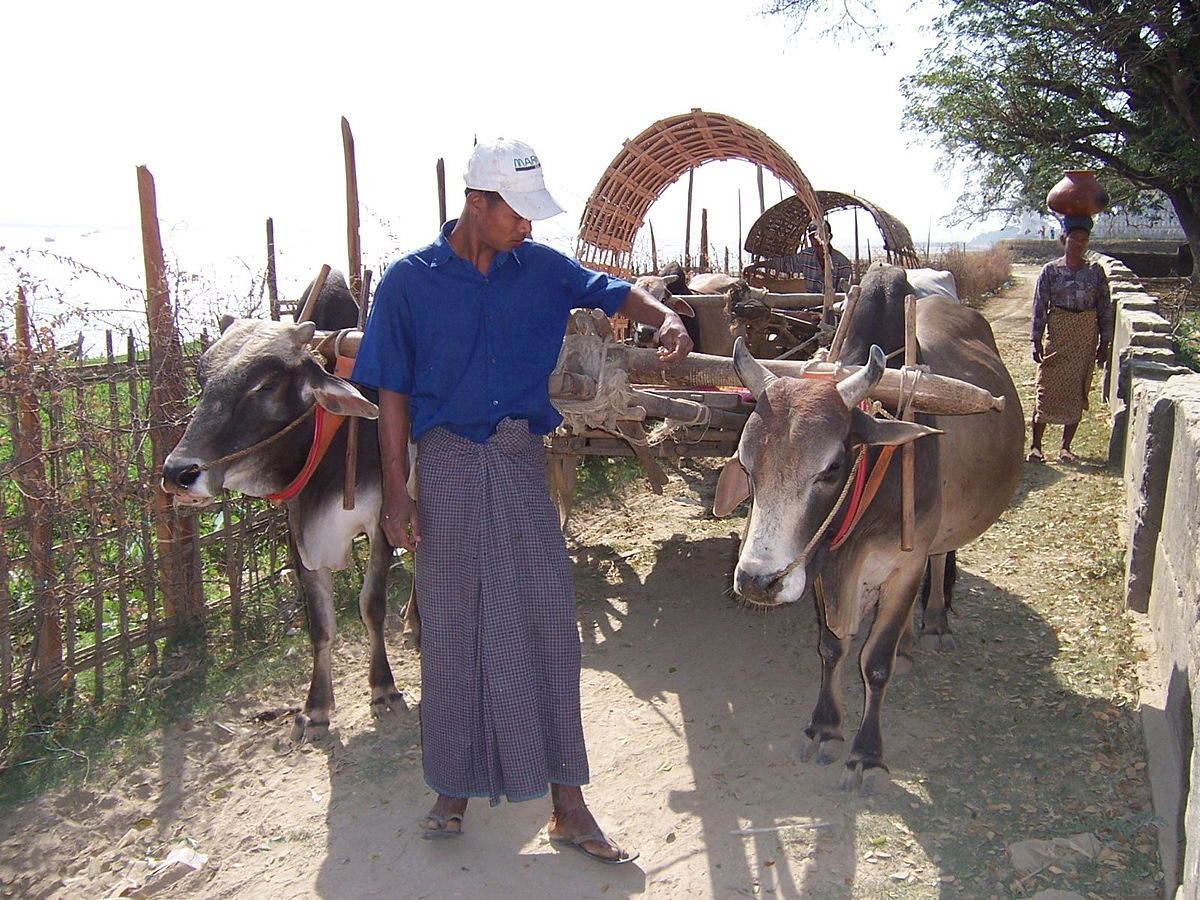 Longyi has no pockets like a normal pant. Myatmo re-adjusted the skirt and immediately I saw a small pocket in front of his belly. He shared with us that this was because most farmers when working, they need a small place to store their work materials such as sickle, knife or even rice seed. That small pocket seems not feasible to hold a mobilephone or wallet so in the mordern cities, they pin those personal items between their waist and the longyi.
The longyi cost around 2 to 3 US dollars for one and you can find it in any local market. I had some times in Nyang Oo market in Bagan and decided to buy me a longyi because why not? "When in Burma, do as Burmese" is our leader's favorite quote. Though they showed me so many times of how to tie longyi, I still failed to do so. So in general, it is not as easy as you see them doing
Meanwhile, Burmese women wear Thummy which is quite similar to Laos or Thailand's dress for female. Those are more feminine since the patterns are with bright colors and with flowers some times. Thummy has strings and this make it easier to wear than longyi.
Both male and female wear flipflops. Besides the traditional costume, Myanmar people wear European clothes on many occasions and when they wear suits, they wear shoes. Basically, Burmese people often mix Longyi with other items of clothing, from T-shirts, shirts, jackets, to vests.
Typically, Burmese use their traditional costume for special occasions and events such as national festivals. But as I shared earlier in this article, Longyi/Taipon and Thummy are used regularly in their daily life because firstly, it is quite brisk and suitable for the hot weather of this country. Besides, once again, those costumes are very easy to mix with other items. And also because the structure and style of Burmese traditional costumes are very simple, they are easy to put on and take off when needed.
It is obvious that the way Burmese people wearing traditional costumes is not euphuistic and also the same as their lifestyle. When visitors take Myanmar tours, they can see that Burmese women rarely wear makeup even in the special occasion in their country, they only have Thanaka. Therefore, tourists will certainly have the feeling that everything is so simple, peaceful and they are always welcome by friendly and sincere Myanmar people. Taking Myanmar tours, trying to wear their traditional costumes and interacting with the local people and the moks promises to help us enjoy an unforgettable and unique experience.