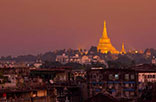 Day 1: Yangon Arrival
Arrive in Yangon and check-in to our hotel. The rest of your day is free to relax after your flight. Alternatively, you may choose to venture out into Burma's largest city. Although replaced by Naypyitaw as the capital in 2006, it remains the industrial and commercial center of the country.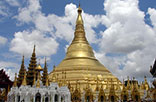 Day 2: Discover the sights of Rangoon, then fly to Inle Lake
This morning's sightseeing takes us by foot and bus to Rangoon's major sights, starting with the magnificent Shwedagon Pagoda – the most revered temple in the country, which all Burmese Buddhists hope to visit at least once in their lifetime. Containing the relics of the past four Buddhas, its shimmering, 100 metre-high central stupa spire is covered in gold leaf and 4,531 diamonds, well and truly dominating the city skyline. We continue to the downtown area to walk along Pansodan Street, where we will see some impressive British colonial architecture and pass by street markets. Indeed, years of Burmese isolation have resulted in Rangoon preserving the largest number of colonial buildings in Southeast Asia. Our next stop is the Chaukhtatgyi Paya. Home to a giant 70 metre-long reclining Buddha, its serene features are topped by a crown encrusted in diamonds and other precious stones. This afternoon, we take a short flight to Heho, from where we drive to the idyllic setting of Inle Lake, our base for the next couple of days.
Meals: Breakfast, Lunch
Day 3: Full day to explore Inle Lake by longtail boat
Inle Lake enjoys a picturesque, high-altitude setting on the Shan Plateau, surrounded by hills and home to the Intha people, as well as some Shan, Taungyo, Pa-o and Danu ethnicities. Local communities are devout Buddhists that live in simple houses of wood and woven bamboo, raised above the water on stilts. They are mostly fishermen, skilled artisans and self-sufficient farmers, whose vegetables are grown on floating gardens made of grass and seaweed. The local fishermen are known for practicing a distinctive rowing style which involves standing at the stern of their boat on one leg and wrapping the other leg around the oar. We spend time amongst these village communities and visit their cottage industry workshops, admiring their talents for silk and cotton weaving, as well as paper and silver production. We are also likely to visit a local market over the course of the day.
Meals: Breakfast, Lunch
Day 4: At Inle Lake; boat to visit Shwe Indein pagoda complex
This morning's boat trip takes us up a small creek in the western part of the lake to Indein village. Here, we have the opportunity to visit a complex of about 1,000 stupas built between the 17th and 18th centuries. Returning to the hotel in the afternoon, the rest of our day is free. Your tour leader may arrange an optional excursion to visit one of Burma's first wineries, or you may choose to sample a traditional massage in town.
Meals: Breakfast, Lunch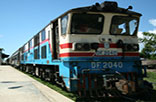 Day 5: Train and drive to hill station of Kalaw
This morning we will enjoy a colourful train journey sitting among the locals to the town of Aung Ban. Although scheduled to take two hours, a relaxed timetable results in the journey often taking longer, but this is all part of the experience and the stunning scenery that we journey through more than makes up for it. Next we drive to Kalaw, with a stop at Myinmathi Cave to see its many Buddha images and small stupas. Kalaw itself sits high on the western edge of the Shan Plateau and became a popular hill station in British colonial times for the escapism it provided from the searing summer heat. Nowadays, having maintained a sense of quaintness reminiscent of the colonial era, it serves as an ideal base for hilltribe treks. The rest of our day is free to explore and enjoy the peace and tranquillity of the area.
Meals: Breakfast, Lunch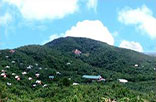 Day 6: Walk in Shan Highlands; free afternoon in Kalaw
Today we can look forward to a gentle four-hour trek through the Kalaw tribal heartlands. Starting in the village of Say Wingabar, we ascend through pine forest to Lu Pyi and on to Myinmathi Cave. Our trail passes through rural countryside and provides us with views of the valley – a picturesque patchwork of rice and vegetable fields. We might see tribal villagers working on their farms, or en route to the market with their produce. After a lunch stop, we have a short bus transfer back to the hotel where we can relax for the rest of the day. For those who would prefer not to take part in the trek, there is the option to relax at the hotel for the day.
Meals: Breakfast, Lunch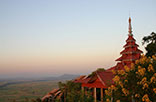 Day 7: Visit traditional villages en route to Mandalay
Leaving the Shan mountain scenery behind us, we embark on an interesting land journey to Mandalay, making our own version of Kipling's famous journey to the gateway to the north. The condition of the road can be poor in places, so we expect the 160 mile journey to take about 9 hours in total. However, this includes plenty of breaks and stops in local villages along the way. Mandalay was the last royal capital of the Burmese kingdom and is considered to be Burma's most historical and culturally-rich region. We spend time discovering its rich and beautiful heritage, much of which is represented in intricate and skilled local arts and crafts.
Meals: Breakfast, Lunch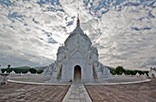 Day 8: Explore Mandalay; boat trip to Mingun village
Today we view the world's largest book at Kuthodaw Pagoda, where the entire Buddhist scripture sits on 729 marble slabs. Our next stop is the magnificent Shwenandaw Monastery, originally a 19th century royal palace and famed for its teak carvings of Buddhist myths which adorn its walls and roofs. Mahamuni Paya is the city's holiest temple where we can witness the local people paying their respects by applying gold leaf to an ancient Buddha image. We also plan to make stops at craft shops to watch skilled workers making gold leaf, ornate tapestries and intricate wood carvings. Time permitting; we hope to visit the jade market – the trade mecca for Burmese jade, which is considered the best in the world. After lunch, we take a short and pleasant boat journey upriver to Mingun – the site of what would have been the world's largest pagoda, had King Bodawpaya not died, thus halting all further work in 1819. What remains is the giant core of a brick pagoda, dramatically split by an earthquake in 1838 and towering 50 metres above the Irrawaddy (Ayeyarwady) River. The original plans would have created a structure three times this height. A nearby shrine houses the 90-tonne bell that was cast to be hung in the finished pagoda, now considered to be the world's largest uncracked bell. As the sun sets over the surrounding hills, we make the seven mile journey back down the river.
Meals: Breakfast, Lunch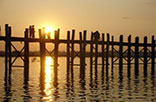 Day 9: From Mandalay, visit Inwa and U-Bein bridge
Four miles southwest of Mandalay, we visit the ancient capital of Inwa (Ava), which had the longest stint of any royal capital between the 15th and 19th centuries. Our visit is conducted by horse-drawn cart along bumpy dirt roads. We plan to stop-off at the yellow stucco monastery of Manu Ok Kaung and Bagaya Kyaung Monastery, famous for its enormous teakwood foundation pillars. The Leaning Tower of Inwa is our final stop. As its name suggests, its precarious angle was the result of a 19th century earthquake. Regardless of its tilt, you can still walk to the top of the tower to enjoy impressive views, if you dare. After lunch in a local restaurant (not included), we head to Amarapura. Just seven miles south of Mandalay, this was Burma's penultimate royal capital from 1783 to 1863. We plan to walk through the serene confines of the expansive Mahagandayon Monastery complex, perhaps catching a glimpse of monks going about their evening rituals. We end the day at the 1.3 km-long teakwood footbridge of U Bein. Here we join the locals on their evening promenade across the lake as the sun sets.
Meals: Breakfast, Lunch
Day 10: By boat along the Irrawaddy River to ancient Bagan
Tours taking place from October to April plan to take the express boat service from Mandalay Port to Bagan. Although requiring an early start, we can look forward to a relaxed, full day's cruise down the fabled and mighty Irrawaddy River, observing the sights and sounds of river life. From May to September, and sometimes during April, water levels are too low for this boat trip, requiring us to fly to Bagan. Arriving in Bagan in the early evening, we can look forward to a couple of days exploring this awe-inspiring site. As the stand-out highlight of the tour for a lot of our customers, many report that their photos do not do justice to Bagan's magnificence and scale. Without doubt one of the world's premier archaeological wonders, its vast plain is studded with literally thousands of 1,000 year-old temples and stupas. From the 9th to 13th centuries, Bagan was the capital of the Kingdom of Pagan – a precursor of modern Burma. During its height of success between the 11th and 13th centuries, over 10,000 buildings were constructed here, of which over 2,200 still remain. Its sheer magnitude can be realised when you consider that there are more temples, stupas and pagodas on this Manhattan Island-sized plain than there are medieval cathedrals in Europe.
Meals: Breakfast, Lunch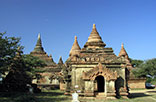 Day 11: Explore the 1000 year old temples of Bagan
Before visiting the temples today, we stop in Phya Saw village to gain an insight into the traditional ways of life that have changed little over the centuries. We are likely to engage with the local people as they go about their daily business – cotton weaving by hand, grinding peanut oil with oxen and caring for various village animals. Moving on to the temples of Bagan, with so many to choose from, we plan to visit some of the most iconic and distinctive. These include Shwezigon – a prototype of later Burmese stupas; Wetkyi-in-Gubyaukgyi – a 13th century cave temple with some interesting frescoes and Ananda Pagoda – one of the finest, largest and best preserved in Old Bagan. We are also likely to visit Ananda ok Kyaung – a former monastery with spectacular 18th century wall paintings. In the late afternoon, a horse drawn carriage will take us through the temple complex to help us to gain a greater appreciation of the scale of the site. As we travel on and on, amongst a seemingly infinite number of temples and stupas, it is easy to understand why Bagan is known as 'The City of Four Million Pagodas.' We hope to finish our day with a memorable sunset view from an upper terrace of one of the temples.
Meals: Breakfast, Lunch
Day 12: In Bagan; optional visit to Mount Popa
A tremendous panoramic view of the temple-studded plain provides a great photo opportunity to kick-start our day before we continue with our visits to the most interesting sites. This will include Manuha Temple – built by King Manuha to represent his displeasure of captivity; Nanpaya – Bagan's first cave-style shrine and Gubaukgyi Temple – an early period temple with well-preserved paintings. The afternoon is free. You can choose to take an optional bike ride around the ruins, a sunset cruise, or simply explore more of the temples in your own time. Alternatively, you can take an optional trip to Mount Popa, about 30 miles from Bagan. At a height of 1,518 metres, Mt Popa juts impressively out of the tropical landscape. It is the famous home of the Nats (Spirit Gods) and, as such, Burmese superstition recommends that you don't wear red, black or green on your visit, for fear of offending the Nats. If you choose to climb the 777 steps to the stunning gold-tipped monastery perched on top of the mount, you will be rewarded with panoramic views. This trip also includes a visit to one of many toddy farmers to witness how toddy palm juice and sugar is produced.
Meals: Breakfast, Lunch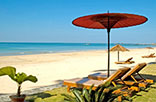 Day 13: Fly to Thandwe; drive to Ngapali Beach
Today we leave the temples and pagodas of Bagan behind and fly to Thandwe. Our tour leader accompanies the group back to Rangoon so the beach extension is unescorted. From the airport you are met and driven to your hotel on sleepy Ngapali Beach.
Meals: Breakfast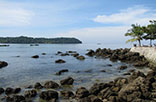 Day 14: At Ngapali; free time to relax on the beach
The day is free and perhaps the ideal way to spend it is by simply relaxing on the unspoilt white sand beaches overlooking the blue waters of the Bay of Bengal.
Meals: Breakfast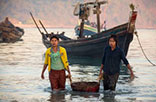 Day 15: At Ngapali; options to explore by bicycle or by boat
If you can tear yourself away from the beach the nearby fishing village is a great place to witness local life, bicycles can be hired locally and are a great way to explore. Alternatively boat trips and snorkelling are available for those keen to get into the inviting tranquil waters of the ocean.
Meals: Breakfast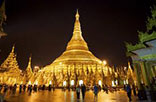 Day 16: Fly back to Rangoon; free afternoon
Leaving the beach behind you return to Rangoon by plane. The remainder of the day is free for further sightseeing. You may like to visit the immense Bogyoke Market, formerly known as Scott's Market, for souvenir or gift hunting (closed on Mondays, full moons and public holidays) or explore the many street markets in the heart of the city. Perhaps another visit to Shwedagon Pagoda would be the ideal way to end your Burmese adventure.
Meals: Breakfast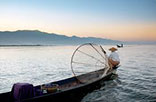 Day 17: Tour ends in Rangoon
Transer to airport for your departure flight.
Meals: Breakfast
End of services./.
Citi
Hotel Category
Superior
Deluxe
Luxury
YANGON
Panorama Hotel
Summit Park View Hotel
Kandawgyi Palace Hotel
MANDALAY
Smart Hotel
Mandalay Hill Hotel
Rupar Mandalar Resort
MYITKYINA
Pantsun Hotel
Pantsun Hotel
Pantsun Hotel
LASHIO
Lashio Hotel
Lashio Hotel
Lashio Hotel
HSIPAW
Mr Charles Hotel
Hipaw Residence
Hipaw Residence
PYIN OO LWIN
Royal Park View Hotel
Kandawgyi Hill Resort
Aureum Palace Hotel
PINDAYA
Conqueror Hotel
Pindaya Inle Inn
Pindaya Inle Inn
NYAUNG SHWE
Paradise Inle Resort
Inle Princess Resort
Auruem Inle Resort & Spa
BAGAN
Thazin Garden Hotel
Aureum Palace Hotel
Auruem Palace HOtel
SERVICE INCLUDES:
- Accommodation based on 16 Nights Twin / Double sharing program
- Including Daily Hotel breakfast
- Sightseeing Program for (Yangon,Bagan,Mandalay,Kalaw,Inle,Ngapali)
- Tour Program Sightseeing with private air- condition and good experienced car driver
- Domestic Flight in (Yangon-Heho/Bagan-Thandwe-Yangon)
- Airport tax include in for flight
- Government train in (Nyaung Shwe-Kalaw)
- Express Boat in (Mandalay-Bagan) at Shwe Keinnery (or) Malikha Boat
- Entrance Fee & Zone Fees as per mentioned program
- Boat sightseeing in (Inle & Mandalay-Mingum)
- English Speaking Throughout (exclude in Ngapali Beach)
- Two ways airport transfer in (Ngapali Beach)
- Purify drinking water and snow towel along in tour program
- Government tax
- Service Tax
SERVICE EXCLUDES:
- International Ticket Fare with insurance surcharge and Fuel surcharge
- Visa Fees & Travels insurance
- Porter Charges & Camera Fees
- Tips for Guides
- Other Personal Expenses
- Beverages
- Myanmar Visa Fees 30 USD
- Other services are not mentioned above including
Hotel Category
Price: valid from 1 Oct 2014 – 31 Mar 2015
2 Pax
3-4 Pax
5-6 Pax
7-9 Pax
S.R.S
Superior
3,836
3,525
3,008
3,008
Deluxe
3,999
3,689
3,172
3,172
Luxury
5,131
4,819
4,302
4,302
*Price can be changed with surcharges during Christmas, New Year and Myanmar Festival