Day 1: Join tour Rangoon (Yangon)
Arriving in Rangoon today we have a chance to relax and freshen up before enjoying a late afternoon visit to the magnificent Shwedagon Pagoda, the most revered Buddhist temple in Burma. Towering some 99 metres over the city, the pagoda's impressive golden stupa dominates the city skyline to the west of Kandawgyi Lake, making it the ideal spot from which to watch the sunset. Originally believed to be over 2,500 years old, this is the oldest pagoda in Burma and certainly one of the most beautiful in the whole of Asia.
Meals: Dinner
Day 2: Fly to Heho and explore Inle Lake by boat
A morning flight to Heho, followed by a drive to Nyaung Shwe, brings us to the beautiful setting of Inle Lake, one of the highest lakes in the country. Devout Buddhists, the local population live in simple stilted houses, fishing in the lake and growing their food on floating gardens of grass and seaweed. Heading out in a boat later today, we have a chance to witness some of the lake's famous 'one-legged' fishermen at work, as well as pay a visit to Phaungdaw U Pagoda.
Meals: Breakfast, Lunch, Dinner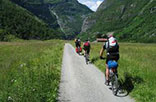 Day 3: Fly to Heho and explore Inle Lake by boat
After checking out our bikes this morning we begin our ride with an uphill climb from Nyaung Shwe to Kalaw, set high on the western edge of the Shan Plateau. Popular with the British during their time in Burma, Kalaw still retains a little something of its colonial charm. We plan lunch either in Heho enroute or in Kalaw upon arrival. This afternoon, time permitting, we then have a chance to continue exploring the town by bike. Attractions include the gold lacquered bamboo Buddha of Nee Paya and the Catholic church of Christ the King. Total cycling distance approximately 60 km.
Meals: Breakfast, Lunch, Dinner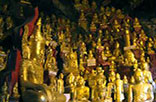 Day 4: Ride north to Pindaya; Visit Pindaya Caves
Following breakfast this morning we head north, leaving the main road to take a vehicle-less track, cycling off road through a lovely rural landscape of farmland and pretty villages. This first section is challenging but the views are stunning. After rejoining the road we cycle through a rolling countryside of rice fields and vegetable gardens, accompanied by ox carts full of cabbages and open top vehicles being taken to market by Pao and Danu villagers. After lunch we approach Pindaya, a small pretty lakeside town, which sits beneath a limestone landscape dotted with cave shrines and stupas.Before checking in to our hotel we plan to visit the famed Pindaya Caves, a revered pilgrimage site that is home to some 8,000 images of the Lord Buddha. Extending into the limestone hills above the town, the chambers are filled with a rich assortment of iconography that dates back to the middle years of the 18th century. Total cycling distance approximately 59 km.
Meals: Breakfast, Lunch, Dinner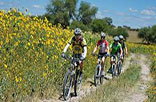 Day 5: Cycle backroads to Ywar Ngan then drive to Mandalay
We begin cycling from Kyone village early this morning, through a patchwork of green countryside, rich in mountain scenery along quiet back roads towards Mandalay. We plan to cycle for around five hours today, on a road rarely used by travellers. En route we will pass huge Banyan trees, and cycle through bamboo and eucalyptus forests, as we make our way towards the village of Ywar Ngan where we stop for lunch. Continuing on this afternoon we complete the remaining 130km by bus arriving into Mandalay in the early evening.Our route passes through spectacular mountain scenery alongside the Zawgwi River, and amongst the variety of produce along the way we will see cotton, turmeric, mangos and teak. Total cycling distance approximately 55 km.
Meals: Breakfast, Lunch, Dinner
Day 6: Morning ride then Irrawaddy Boat back to Mandalay
Mandalay was Burma's last royal capital and, for many, the centre of its most historic and culturally rich region. Today we explore the countryside around the city, starting first with a ride out to Sagaing, some 20 kilometres away. Overlooking the waters of the Ayeywaddy River, Sagaing is considered one of Burma's most important religious centres and its hillside is covered in pagodas and temples. From the Soon U Ponya Shin Paya atop of Sagaing Hill we will enjoy spectacular views of the river and more than 500 pagodas dotted around the countryside. From here we continue along the river to the ruins of the Mingun Pahtodawgyi which, had it been completed, would have been the world's largest pagoda. We will have time to take a look around the site, before taking a scenic Irrawaddy river boat ride back to Mandalay. Total cycling distance approximately 38 km.
Meals: Breakfast, Lunch, Dinner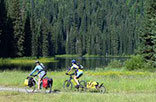 Day 7: Maymyo hill station; visit and return by bike
This morning we drive to Pyin Oo win (Maymo) (67 km 02:00 hrs) , a former British colonial hill station that is set in the cool, lush hills to the east of Mandalay. Lying at the head of a valley, amidst a landscape blanketed in coffee plantations and wild flowers, Maymyo provides a wonderful slice of colonial eccentricity. We will visit the main attractions in town including the British architecture around the bustling market, and enjoy the tranquility amid the rich landscapes of the National Kandawgyi Gardens. The well-kept gardens boast nearly 500 species of plants trees and shrubs. We return back down to Mandalay by bike, through a series of hairpin bends with spectacular views over the surrounding hills. As the road flattens we take the back roads alongside a canal, enjoying beautiful rural rice fields before the city comes into view and back to Mandalay. Total cycling distance approximately 65 km.
Meals: Breakfast, Lunch, Dinner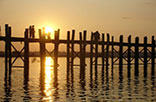 Day 8: Visit the Ubein Bridge then tour of Mandalay city
A short drive south of Mandalay lies the former royal capital of Amarapura, perhaps best known for Ubein Bridge – the 1.2 kilometres footbridge that spans Lake Taungthaman. We also have the opportunity to see the bridge on an optional short boat ride. Returning to Mandalay via the jade market, we then spend this afternoon exploring some of the city's major highlights, including the world's largest book at the Kuthodaw Pagoda, the intricate wooden majesty of the Shwenanda (Golden Palace) Monastery and Mandalay Hill. No cycling today.
Meals: Breakfast, Lunch, Dinner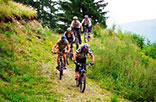 Day 9: Cycle and drive to Chaung U village via Thanbudday
Our morning starts with a vist to the 17th Century Kuang Madaw Pagoda, which houses the biggest dome in Burma modelled on the Mahaceti in Sri Lanka. We continue by bus to Chaung U village where we begin the day's cycling. Taking the quiet backroads towards the bustling river hub of Monywa allows us to visit some of the most unique Buddhist structures in Burma. A giant 128-metre tall standing Buddha and a 95-metre long reclining Buddha look out over Bodhi Tataung, a garden of over 1000 sitting Buddhas – all facing the same direction. A little further through the villages we arrive at the bizarre Thanboddhay Paya complex, the result of a monks dreams and visions which resulted in him designing a stupendous pagoda containing 582,363 Buddha images. We continue our journey by bicycle arriving at our hotel mid-afternoon, in time to relax beside the lake. Total cycling distance approximately 40 km.
Meals: Breakfast, Lunch, Dinner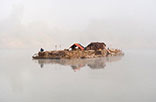 Day 10: Morning on the bikes; afternoon cruise to Bagan
Heading out of Monywa on the bikes, we leave the main road to cycle the back roads towards Pakkoku. Our route takes us along a dusty path through traditional wooden villages, bisecting fields of rice, sesame and peanuts giving a unique close up of rural life. Ox carts amble through the villages, some of which conceal impressive frescos inside small temple complexes. Later we rejoin the main road, cross the impressive Chindwin River and cycle to Aung Moe junction, where we end our cycling for today. Later this afternoon we drive to Pakkoku, where we take a local ferry down the Irrawaddy River to the once imperial capital of Bagan, one of the most impressive religious archaeological sites anywhere in Asia. Total cycling distance approximately 62 km.
Meals: Breakfast, Lunch, Dinner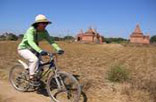 Day 11: Bagan sightseeing by bike
Bagan rose to prominence during the 11th to 13th centuries. At its height it presented a sea of colour and spectacle, with over 13,000 temples and pagodas spread across its expansive plains. Today just over 2,000 remain and we visit some of the most important ones today.We begin our day with the option of enjoying sunrise from the terraces of the stunning 12th century Dhammayazika Temple, which puts the enormity and majesty of this ancient capital into perfect perspective. We will then cycle along sandy tracks between the temples visiting the distinctive Shwezigon and Ananda Pagodas, as well as the 13th century Wetkyi-in-Gubyaukgyi cave temple. After enjoying the wonders of Bagan, the rest of the afternoon is left free for you to relax or explore further, maybe enjoying the sunset from one of the temples or do an optional late afternoon boat ride on the Irrawaddy River. Total cycling distance approximately 25 km.
Meals: Breakfast, Lunch, Dinner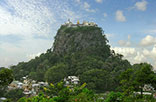 Day 12: Return cycle ride to Mount Popa
This morning we take a ride across the Bagan plateau out to Mount Popa, Burma's sacred abode of the Nats (spirit gods). A volcanic plug that rises to a height of 1,500 metres above the surrounding landscape. The summit is covered by rare flora and fauna and is designated a national park as well as boasting some fine panoramic views of the surroundings. The small temple on the summit is also home to troops of wild monkeys. Depending on time available and your energy levels there may be the opportunity to climb on foot the 777 steps that lead to the summit and temple or even cycle the distance. After taking lunch we return to Bagan on bike by way of a local farm producing traditional 'toddy' palm juice. Remainder of the day is free in Bagan with the option to see sunset from a temple. Total cycling distance approximately 54 km.
Meals: Breakfast, Lunch, Dinner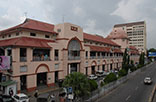 Day 13: Fly to Rangoon (Yangon); afternoon city tour
After flying back to Yangon this morning we enjoy a tour of the city, taking in the ancient relics housed in the unusual (and hollow) Botataung Pagoda before exploring a little of the city's downtown area. A stroll along Pansodan Street takes in the rich colonial architecture and bustling street markets, whilst the immense Bogyoke Market, formerly known as Scott's Market, is filled with handicrafts from all over the country (closed on Mondays, full moons and public holidays). No cycling today.
Meals: Breakfast, Lunch, Dinner
Day 14: Tour ends Rangoon
The tour ends in Rangoon this morning after breakfast.
Meals: Breakfast
End of services./.
Citi
Hotel Category
Superior
Deluxe
Luxury
Yangon
Panorama Hotel
Summit Park View Hotel
Kandawgyi Palace Hotel
Nyuang Shwe
Paradise Inle Resort
Inle Princess Resort
Aureum Inle Resort & Spa Hotel
Kalaw
Pine Hill
Hill Top Villa
Amara Mountain Resort
Pindaya
Conqueror Hotel
Pindaya Inle Inn
Pindaya Inle Inn
Mandalay
Smart Hotel
Mandalay Hill Resort Hotel
Rupar Mandalar Resort
Monywa
Monywa Hotel
Win Unity HOtel
Win Unity HOtel
Bagan
Thazin Garden Hotel
Aureum Palace Hotel
Auruem Palace Hotel
Yangon
Panorama Hotel
Summit Park View Hotel
Kandawgyi Palace Hotel
Nyuang Shwe
Paradise Inle Resort
Inle Princess Resort
Aureum Inle Resort & Spa Hotel
Kalaw
Pine Hill
Hill Top Villa
Amara Mountain Resort
Tour price includes:
• Accommodation based on 13 Nights Twin / Double sharing program
• Including Daily Hotel breakfast
• Sightseeing Program for (Yangon,Inle, kalaw,Pindaya,Maymyo,Monywa,Bagan,Popa)
• Tour Program Sightseeing with private air-condition and good experienced car driver
• Domestic Flight in (Yangon-Bagan/ Mandalay-Heho/ Heho-Yangon)
• Airport tax include in for flight
• Up/Down Truck car for (Golden Rock trip)
• Trekking guide fees in Hsipaw
• Horse craft and ferry boat sightseeing in AVA
• Entrance Fee & Zone Fees as per mentioned program
• Boat sightseeing in (Inle & Mandalay-Mingum)
• English Speaking Guide as per your request
• Purify drinking water and towels along in tour program
• Meals (B=Breakfast, L=Lunch, D= Dinner)
• Government tax
• Service Tax
Tour price excludes:
• International Ticket Fare with insurance surcharge and Fuel surcharge
• Visa Fees & Travels insurance
• Porter Charges & Camera Fees
• Tips for Guides
• Other Personal Expenses
• Beverages
• Myanmar Visa Fees 30 USD
• Other services are not mentioned above including
Hotel Category
Price: valid from 1 Oct 2014 – 31 Mar 2015
2 Pax
3-4 Pax
5-6 Pax
7-9 Pax
S.R.S
Superior
4,019
3,365
2,726
2,726
550
Deluxe
4,884
4,230
3,592
3,592
1,447
Luxury
5,984
5,330
4,692
4,692
2,546
*Price can be changed with surcharges during Christmas, New Year and Myanmar Festival